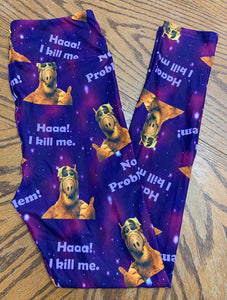 Alf
Custom Designed Leggings in Adults, Kids & Babies
My Leggings are ultra-stretchy, super soft and durable beyond compare! Made from 92% polyester and 8% spandex, our peach skin fabric hugs your body for pure comfort. You can sport them to your favorite Yoga class or throw on some cute booties and wear them for a night out on the town! Your NEW Leggings will be a great asset to any outfit for any occasion!
92% polyester, 8% spandex, blend double brushed GSM

Yoga Waistband 

Available Sizes:
Adult Leggings:
One Size - fits approx. 2/4 to 12/14
Curvy - fits a approx. 12/14 to 20
Extra Curvy - fits approx. 3/4X (20-26) and 3/5X (24-32) or 18/20 to 30
 Caring for your product: Wash inside out with COLD water ONLY. Do NOT use bleach or hot water. Best if hung to dry however they may be dried on a LOW setting. Heat is NOT a friend to your clothes! Dryer sheets are also a NO-NO and will eventually begin breaking down the materials in your favorite things! 
***PLEASE NOTE- if it is showing sold out then unfortunately that means that we are sold out and are not getting any more. If we do come across extras then we will update the listing so be sure to check back.